Automobile Association again calls for review of petrol price to mitigate against rising costs
Fuel prices will be through the roof in December, with the price of oil playing almost no part.  This is according to the Automobile Association (AA), which was commenting on price increases announced by the Department of Mineral Resources and Energy (DMRE) yesterday (SUBS::29 Nov), and which come into effect at midnight tonight (SUBS::30 Nov). The Association says the increases again point to the need for an urgent investigation and recalculation of the current fuel pricing model and its existing elements.
Petrol across all grades will rise by 81 cents a litre, crashing through the R20/l barrier for the first time in history to reach R20.13 for a litre of 93ULP and R20.35 for 95ULP. Diesel will rise by as much as 75 cents a litre, and illuminating paraffin by 42 cents a litre.
"This price disaster is entirely home grown. Internationally, oil prices have pulled back from their recent highs and Brent Crude is currently trading around $75 a barrel. The majority of this month's under-recovery is because of the weakening of the Rand against the US dollar," the Association notes.
The AA says that while the recent travel bans related to the Omicron variant of COVID-19 had caused a spike in the exchange rate, the underlying weakness was a continuation of a trend which began with the mid-year riots and looting.
"In under six months, South Africa has slipped from R13.40 to the US dollar in June to its current price pegged at around R16.15."
Increases in the Retail Margin and a related bouquet of costs which are traditionally adjusted for December annually (such as Wholesale Margins and Secondary Storage and Distribution) were fairly modest, and totalled around an extra 17 cents a litre.
"The increases year-on-year since December 2020 are astronomical. Petrol has increased by more than 40%, diesel by around 44%, and illuminating paraffin by more than 70%. Wages and salaries have not kept pace with these heavy increases, and consumers will undoubtedly be under more financial pressure because of the knock-on effects on other products," notes the AA.
From January to the latest increase for December announced yesterday, ULP95 petrol has increased by a staggering R5.87 a litre, while ULP93 petrol has increased by R5.89 a litre over the same period. Diesel 0.05 has climbed by just under R5.47 a litre over this period, while diesel 0.005 has increased by R5.50 a litre. Users of illuminating paraffin are paying R4.83 more in December than they did in January.
"These increases are severe and will undoubtedly have major negative implications on already financially constrained consumers. In the last two months alone, petrol has increased by more than R2 a litre, diesel by between R2.21 and R2.23 a litre, and illuminating paraffin by R1.83 a litre. These massive increases, we believe, strengthen our call for a review of the fuel price structure, and for a recalculation of all the elements that comprise the fuel price," concludes the AA.
Fuel price increases/decreases Jan-Dec 2021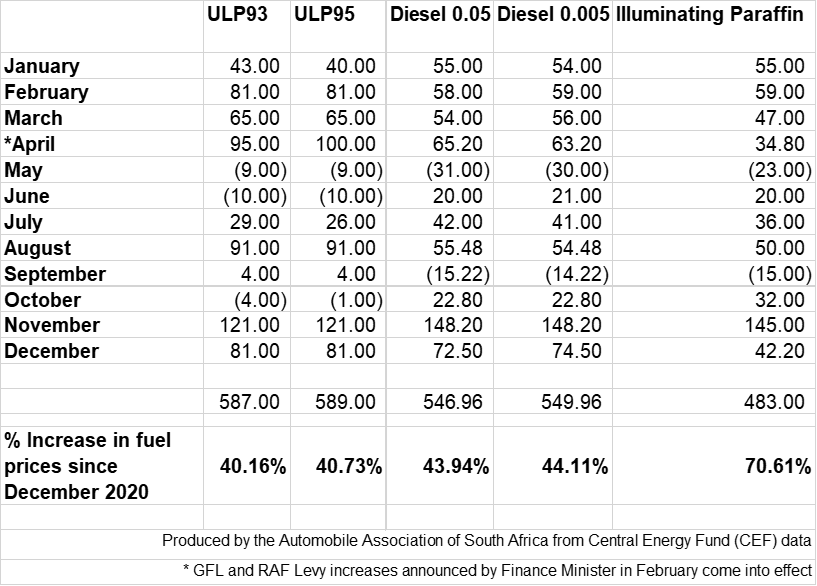 Join the conversation on Twitter: #ReviewTheFuelNOW
PLEASE TAKE NOTE:
The Automobile Association (AA) does not regulate or adjust fuel prices in South Africa, nor does it have any input in how the fuel prices are calculated. Fuel prices are officially calculated and adjusted on the first Wednesday of every month by the Department of Mineral Resources and Energy. The DMRE is the only entity which regulates, sets, adjusts, and officially announces fuel prices in South Africa.